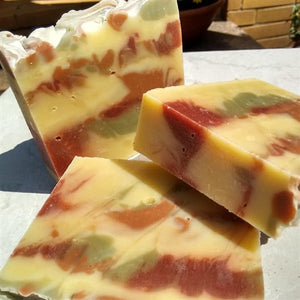 Smells like Roses.
Here is 10 reasons our customers love this soap.
1. It is all natural.
2. Is is colorful and pretty.
3. It is made with a blend of essential oils reminiscent of roses.
4. The name, Manda Rosium is  a medley of the essential oils it is made of.
5. It is colored with natural clays and botanicals.
6. You can use it in the shower or the tub. It does not matter .
7. It foams really well.
8.   It is made from really good skin moisturizing oils.
9. Environment friendly.
10.  made by garden gnomes.
Made of olive oil, coconut oil, Sheabutter, castor oil and Sweet almond oil. Colored with French clay and mader root. ( Rubea Tinctoria) Essential oils of Palmarosa, Geranium and Mandarin. price is for 90 gr.
Delivery: 3-4 business days
Additional info
Allergens: citral, geraniol,farnesol,linalool, limonene Because the soap is handmade, there is likely to be variations in the pattern.