Our 12 days of Christmas
Calendar is a JOY TO THE WORLD in more ways than one.
It is VEGAN
It is PLASTIC FREE
It is RECYCLED
And filled with 12 full size soaps and bath products from the best little shop in Germany .
SHOP NOW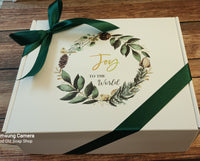 If you are looking for environment friendly, yet luxurious, soaps and bath products, then you have come to the right place. 
Our soaps have a lovely rich lather created by the combination of natural oils that your skin will love. 
No animal fats are used in any of our products and also no palm oil. The vegan community is growing, also here in Germany and we are proud to inform you that our products are vegan friendly.
We use no parabens, no artificial preservatives and your skin will soon tell the difference.
  If you, like us, are aiming for a "waste free" life style, or just want to help reduce plastic packaging, then our soaps and bath products are the perfect choice as they are sold "naked" then wrapped in unbleached, brown paper, (or repurposed books) and our shipping boxes and fill material are all recycled.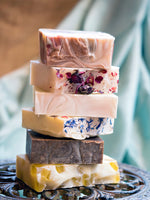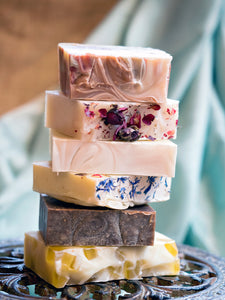 HANDMADE SOAPS
We offer a large selection of handmade block soaps, made from precious oils like olive, avocado, coconut, almond, shea and many more.
SHOP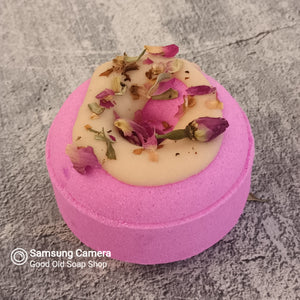 BATH BOMBS
Here you can choose from bubbly, fun shaped bath bombs with amazing fragrances or donuts and pies with moisturizing coconut milk and butters.
SHOP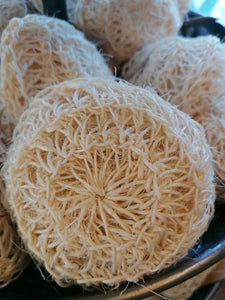 OTHER ITEMS
Here you will find all other accessories like soap bags, soap dishes, scrubbies.etc
SHOP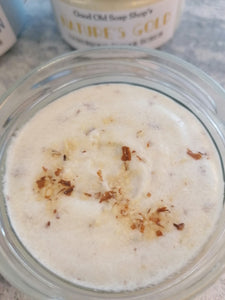 SUGAR SCRUBS & BODY CARE
Here you will find our sugar crubs, deodorants, shampoo bars, bath salts and lotion bars.
SHOP Now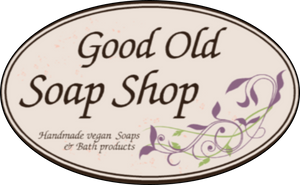 GET MONEY BACK
OUR SUGAR SCRUBS ARE SOLD IN GLAS JARS. GET 50 CENT BACK BY RETURN OF CLEAN, UNDAMAGED JAR AND LID.
BE THE CHANGE
HOT STUFF
EPSOM SALT BATH SOAK

DEO STICK

COUNTRY PEAR SHAMPOO
TESTIMONIALS
I purchased many of the Afternoon Tea Shampoo Stones while in Landstuhl. Your shop was lovely, and everyone who received them as gifts has raved about their hair after use. These are an amazing product and your shop was a delight to the senses. Your service
was so cheerful and professional that even my short visit relieved some of the stress associated with the emergency circumstances of my stay in Landstuhl. Thank you for bringing a smile to my face and much joy with your products. Many thanks from the United
States!

CATHERINE WATERS
The owner is so nice. She goes out of her way to make sure her customers are happy and get the products they need. Her products are also wonderful, smell great, and make my skin feel healthy not dry. I highly recommend the Good Old Soap Shop!

Katrina Mcreynolds
Sehr schöner Laden in Landstuhl mit selbst hergestellten Naturseifen uvm. und einer sehr netten und freundlichen Inhaberin, die sehr gut Deutsch spricht. Absolut empfehlenswert!

Marita Donauer
Location
Our Shop
Pick-up orders can be collected every day between 0900-1800
Hauptstrasse 27
66849 Landstuhl
Mo - Fr, 0900 - 1800 Uhr
Samstag, 1100 - 1500 Uhr
Sonntag, Ruhetag