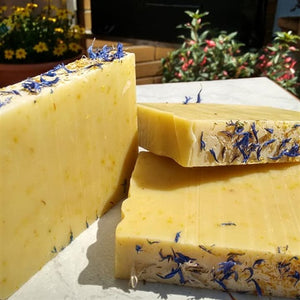 Smells like the flowering sweet pea.
Here is 10 reasons why our customers love this soap.
1. It is a classic.
2. It smells like flowers.
3. It has Corn flowers on it.
4. It has Calendula in it.
5. It has natural rich lather.
6. It is vegan.
7. Grandma loves this one.
8. And so does Little Chloe 
9. It is a non drying formula.
10.  This is the Grace Kelly of soaps.
Made with Olive oil, Coconut oil, Shea Butter , Castor oil and Avocado oil. Fragrance oil.  Calendula flower petals is added for their well known their skin healing properties. Dried corn flower petals for décor.  Price pr.90 gr
Delivery: 3-4 business days
Additional info
Allergens: Citronellol. Idoeugenol, Lilienstralis 22 , Linalool, Limonene.