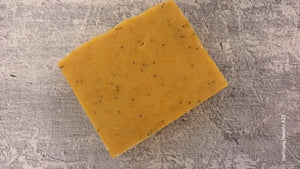 The Camino.
With this new range of soaps I am going back to basics a little bit but also collecting memories.
Last year I walked the Camino from Porto to Santiago de Compostella, all 250km. ( from Portugal to Spain) Walking along you could not help but notice ( and taste) Oranges growing every where and at times I walked through whole forests of cedar trees and that is why I have named this soap, made with essential oils from Oranges and cedarwood, "The Camino" in memory of a
very special time in my life.
This soap is also all natural ( as it should be) coloured with annatto seeds and added poppy seeds as an exfoliant. ( no, before you ask... i did not do anything with poppies on the camino, but..... a small dose of opium probably would have been welcome as a pain killer for my very sore feet.....yes, poppy seeds come from the opium plant )
Made with Olive oil, Coconut oil, Shea Butter, Castor oil and Almond oil, orange eo, cedarwood eo, poppy seeds, annatto seeds.    Price is for 90 g
Delivery: 3-4 business days
Additional info
Allergens: limonene, citral.
Variations in the pattern is to be expected due to it being handmade.