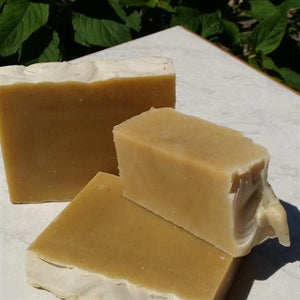 A "woodsy" and masculine soap, with Cedarwood and Pine being the first impression.
Here is 10 reasons our customers love this soap.
1. It is all natural.
2. The essential oils blend is so manly.
3. The name is just a name.. I could have named it FRANK but I didnt.
4. It is environment friendly.
5. It smells like Forest.
6. It is vegan.
7. It does not dry out your skin.
8. It is made by Trolls, nice trolls.
9. The natural oils leaves your skin so soft.
10. You don't have to go camping.
Made from Olive oil, Coconut oil, Shea butter, Castor oil and Almond oil. Contains essential oils from Cedarwood, pine, Teatree, Bay Laurel. Green tea is added for its anti fungal qualities. Price PR. 100 gr.
Delivery: 3-4 business days
Additional info
Allergens: Eugenol, Limonene, Linalool.