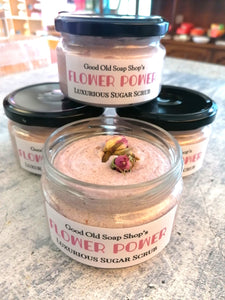 Our luxurious sugar scrubs are made with emulsified oils and butters that moisturise and nourish your skin while sugar and ground almonds leaves your skin silky smooth and radiant.
Smells like roses and mixed flowers.
Made from : Sugar,Almond oil, coconut oil, ground almonds, Shea butter, cocoa butter, emulsifying agent, fragrance, kaolin,  rose petals.
allergens:cinnamyl alcohol,hexyl cinnamal, linalool.
200 ml glass jar.Comes with a little wooden spoon :)  (no need to put the wet hands in the jar)