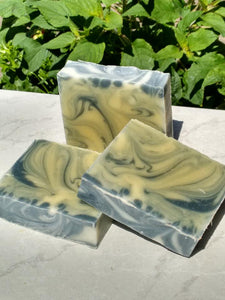 Smells like Lavender. Made with essential oils and natural colour from plants . Price is for  pr.90 gr .
Here is 10 reasons our customers love this soap.
1. It is all natural.
2. The smell is from real lavender essential oils.
3.  It is vegan.
4. It is skillfully made by Smurfs.
5. The blue color is from a plant called  Isatis tinctoria.
6. It has a rich natural lather.
7. It is beautiful and makes you happy.
8.  zzzz .....zzzz.....zzzzzzzzzz
9. Environment friendly packaging.
10. It is gentle.
The soap is handmade so variations to the pattern is to be expected.
Delivery: 3-4 business days
Additional info
Ingredients: sodium oleate, sodium cocoate, sodium sheabutterate, sodium castorate, sodium avocadoate, aqua, glycerine, essential oils, isatis tinctoria. Allergens: Limonene, Geraniol, Linalool. because the soap is handmade, there is likely to be variations in the pattern,