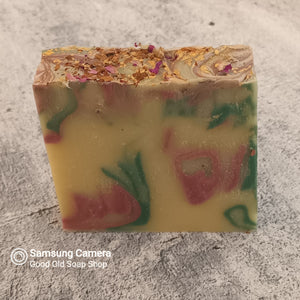 One of our newest additions to the soap collection. The scent is best described as  a warm, rich floral.
Here is 10 reasons our customers love this soap.
1. It is beautiful.
2. The amzing smell.
3. It is gentle on sensitive skin.
4. It is non drying.
5. It has a rich natural lather.
6. Hand made of course.
7. Bright colours..
8. Good value for money.
9. It lasts a long time.
10. it soothes the soap addiction.
Made with Olive oil, Coconut oil, Shea butter, Castor oil and Apricot kernel oil. Parfum. mica. Price pr. 90 gr .

Delivery: 3-4 business days
Additional info
Allergens: alpha-iso-methylionone,benzyl salicylate, linalool