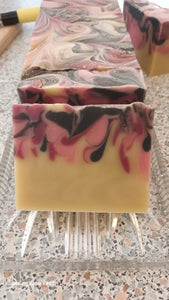 A very popular scent. Fruty Raspberries with the sweetnes of vanilla.  Matching Bath bombs witht he same name.
Made with Olive oil, Coconut oil, Shea Butter, Castor oil and Almond oil. Parfum. CI 77019/77891/77491/77742/77861/77499/77491  Price is for 90 g
Delivery: 3-4 business days
Additional info
Allergens: limonene, hexyl cinnamal. benzyl benzoate.
Variations in the pattern is to be expected due to it being handmade.