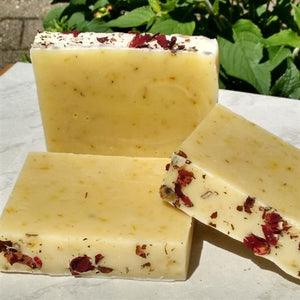 PATCHOULI SOAP. Strong Patchouli smell with undertones of Bergamot.
Here is 10 reasons our customers love this soap.
1. It is all natural.
2. It smells like long gone happy hippie days.
3. It has rose petals on top.
4. It has calendula petals in side.
5. Do I hear Flower power?
6. Natural rich lather.
7. Vegan.
8. Zero waste.
9. Lasts a long time.
10. Patchouli is here to stay.
Made with Olive oil, Coconut oil, Shea Butter and Castor oil. Contains essential oils of Patchouli and Bergamot. Added  dried Calendula flower petals.  Dried rose petals for décor. Price pr.90 gr
Delivery: 3-4 business days
Additional info
Allergens: Citral, Limonene Linalool.