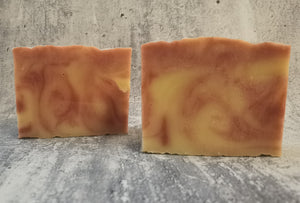 PINK GRAPEFRUIT SOAP. Smells like grapefruit and lemongrass.
Here is 10 reasons our customers love this soap.
1. It is all natural.
2. Grapefruit and lemongrass is refreshing and up lifting.
3. It has lots of essential oils in it.
4. The color is from a plant called Rubea tinctoria.
5. It is energizing.
6. It is vegan.
7 . You can wash your hair with it.
8. It lasts a long time.
9. Plastics free.
10. Nothing funny about it.
Made with Olive oil, Coconut oil, Shea Butter, Castor oil and Avocado oil. Contains essential oils of Grapefruit, Lemongrass and Rosemary. Colored with Madder root.  Price pr. 90 gr .
Delivery: 3-4 business days
Additional info
Allergens: Citral, Eugenol, Linalool, Limonene.