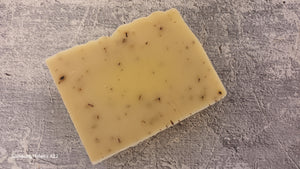 Saint Michel.
Let me tell you about this soap.
This soap was inspired by a soap I bought at Le Mont Saint Michel. It has been made the same way by the monks there for centuries. All natural rustic soaps have always been where my heart is at and I just LOVE this one. It is made with essential oils typical of France.... yes lavender is in the blend
The rest I will keep to my self.... I can tell you the herb you see is THYME. There is no added colour or anything artificial...
just Good Old fashioned Soap as beautiful as only natural soap can be.
Made with Olive oil, Coconut oil, Shea Butter, Castor oil and Almond oil. Parfum-blend of essential oils, thyme,kaolin   
Price is for 90 g
Delivery: 3-4 business days
Additional info
Allergens: Citral,linalool, limonene.
Variations in the pattern is to be expected due to it being handmade.