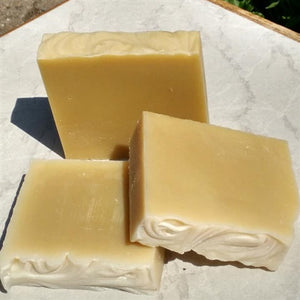 SANDALWOOD SOAP. Smells of Sandal wood with a hint of vanilla.
Here is 10 reasons our customers love this soap.
1. It is all natural.
2. It is a classic.
3. It is for men because women love it.
4. You can use it for your whole body.
5. Made from blended essential oils.
6. It foams really well.
7. Vegan.
 8. Its the Rolls Royce of soaps.
9. It conditions the skin.
10. Do I need to say more?
Made with Olive oil, Coconut oil, Shea Butter, Castor oil and Almond oil. Contains blended essential oils. Price pr. 90 gr
Delivery: 3-4 business days
Additional info
Allergens: Cinnamyl alcohol, Citral, Eugenol, Cinnamal, Coumarin, Benzyl cinnamate, Linalool, Benzyl benzoate, Citonellol, Hexyl Cinnamal, Limonene, Alpha - isometylionone.